Managing Visitors and Security
At the Company X HQ lobby, the guards on duty are supplied with TimeTec VMS to manage visitors comings and goings using QR codes to be scanned with TimeTec QR master reader integrated with an array of TimeTec IoT devices such as BLE-2, BLE-5 and BLE-16, that are connected to TimeTec Access for employees' access control purposes. With the QR codes generated by the TimeTec VMS, visitors can access all the authorised doors, flap barriers and elevators with ease.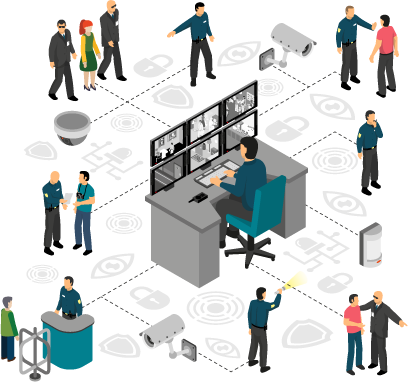 Additionally, the guards at the HQ are also using TimeTec Patrol as a tool to perform round-the-clock patrol guard tour based on their patrol schedules and NFC-tagged routes to heighten security. When pre-registered visitors enter a parking area, the barrier gate installed with TimeTec BLE-2 and License Plate Recognition (LPR) will open to prompt TimeTec, i-Ad and i-Merchants promotions on the guest's smartphone that highlight the nearby shopping mall's latest deals. Guests can pay for their parking fees and generate e-receipts via the same App when the is using TimeTec Parking as its parking system.