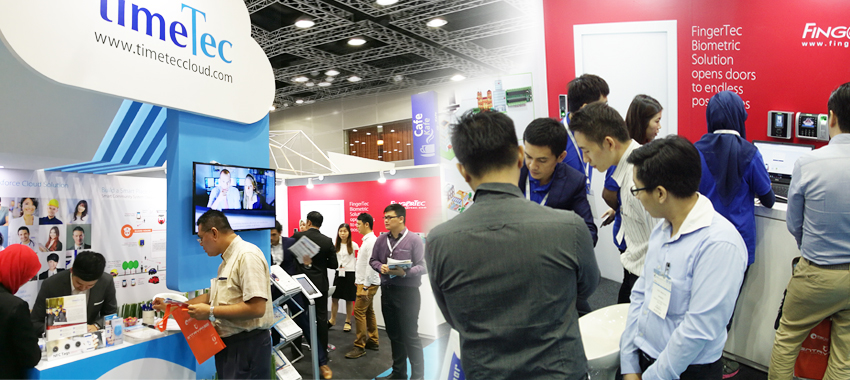 Traverse TimeTec Timeline at IFSEC SEA 2017

On the 6th - 8th of September 2017, IFSEC SEA 2017 moved towards its 5th edition of the event at the prestigious Kuala Lumpur Convention Centre and welcomed over 10,000 regional security professionals to experience the latest technological innovations and hear from industry leaders – all under one roof. With more than 350 world-renowned brands on the show floor, this annual technology showcase no doubt offers in-depth knowledge of products and case studies for visitors as well as everyone within the security buying chain from manufacturers, distributors, installers, integrators, consultants to end users.
TimeTec showcased its latest cloud solutions such as TimeTec TA, TimeTec Leave, TimeTec Patrol and the comprehensive i-Neighbour which promotes a smart community and is suitable for any high rise residential buildings and gated guarded neighbourhoods. FingerTec, the company's big biometrics brand that has been standing tall within the local and global markets was definitely being staged during this grand event.
Our time at IFSEC SEA 2017 received a great response and TimeTec was constantly patronized by both security professionals and potential customers alike. What's more, the product that received the most attention was i-Neighbour: a secure multi-functional cloud-based residential and visitor management system. The adoption of i-Neighbour system in any modern neighbourhood brings various advantages to the residents and the management alike. i-Neighbour provides a convenient platform for a neighbourhood to manage its visitors and other matters such as facility bookings, maintenance fee payment and collection, lodging of reports, security issues and concerns, and many more. On top of that, i-Neighbour solution can be integrated with various IoT hardware that taps on the BLE technology to offer its residents with a more modern lifestyle everybody is craving for.
FingerTec is well-known for its great products designed to collect attendance data for attendance and workforce management within various types of businesses. It also supplies convenient solutions for a secured door access using fingerprint, face and card technology. We were pleased to welcome our nationwide resellers to our booth as well as introducing them to the latest cloud solution which could be integrated with FingerTec such as TimeTec TA. The cloud solution is definitely making its way into the future and by having all our partners with us, the future looks bright.
We at TimeTec, want to extend our deepest gratitude to the Team and guests present at the exhibition for making this 3-day event such a success.