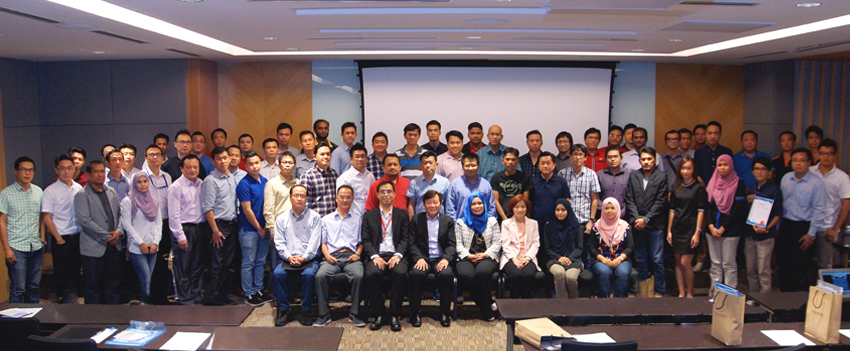 TimeTec Business Seminar
Let's Take Your Business to the Cloud

On 22 February 2017, TimeTec Computing Sdn Bhd organized a business seminar - Let's Take Your Business to the Cloud at Shaftsbury Asteria, Cyberjaya. The seminar was held to introduce TimeTec's new solutions; TimeTec TA, TimeTec Patrol and i-Neighbour to FingerTec resellers in Malaysia and to invite them to be apart of TimeTec cloud solutions distribution channel.

The seminar kicked off with a keynote address by TimeTec's CEO Mr. Teh Hon Seng, sharing his views on the changing marketplace, the importance of IT integration in business, and manufacturing 4.0. According to Mr. Teh, companies that are going to be valuable are companies that transform themselves into IT companies; and companies that cater what he calls an "ecosystem" to customers. An ecosystem as described by Mr. Teh is a program/system/app that enables engagement of users from every level. Instead of only creating softwares (systems) for use of admin staffs, Mr. Teh stressed that we have to create systems that are able to integrate admin and all it's end users (staffs). It is more than automation, it is about customization, feedback and total integration, involving multilevel access hierarchy; there must be adequate channels and multi level access hierarchy, so both managers and staff can access a centralized system and communicate directly. This is the vision of what TimeTec cloud solutions are founded upon, total integration.

TimeTec TA, TimeTec Patrol and i-Neighbour were soon introduced by the key people in development, Mr. Henry Pang, Mr. Marcus Tng and Mr. Aiden Teh, respectively. TimeTec TA is designed for Workforce Time & Attendance, TimeTec Patrol is intended for security firms to manage their security guards and i-Neighbour is targeted to manage Visitor and Residential matters in high-rise condominiums and gated guarded residentials.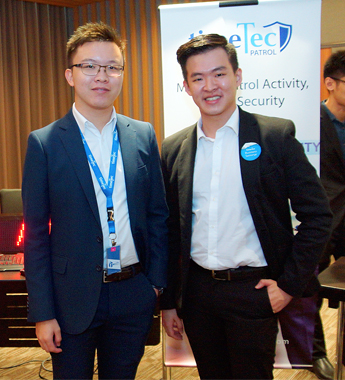 The i-Neighbour residential management system turned out to be the star solution for the day, catching the attention of many resellers. Features like the Panic Button, Siren Kit and i-Merchant stirred up curiosity and awe amongst attendees. TimeTec Patrol also gained good traction with resellers. Mr. Pang showed us how TimeTec Patrol will revolutionize the way patrol guards conduct patrolling duties in the future. Doing away with patrol stick and, adopting the use of smartphone, making use of NFC technology. Through TimeTec Patrol, all security guards would need to do is run an app and start patrolling. Real-time feedback will be updated on the system for managers to keep track of patrol activities. Incidents that happen during guard tours can also be reported through the system. TimeTec TA remained the most developed and best selling TimeTec solution thus far, building on 17 years of experience in Time and Attendance management software. The new and improved TimeTec TA app now enables BLE Beacon and NFC clocking for all mobile users.
Let's Take Your business to the Cloud ended right after that Mrs. Norana Johar, the Group Chief Operating Officer took the stage and touched on the ways we can sell cloud. When it comes to selling cloud solutions, Mrs. Ana stressed that it is not an easy task, it requires persistence on reseller part. It is important to understand the need of the clients, to educate them, relate to what they are comfortable with and maintain pace when selling cloud solutions. However once the trust is gained, the reward is lucrative and continuous. TimeTec will continue to grow with more solutions including TimeTec Leave for workforce leave management, TimeTec Hire for workforce hiring, TimeTec Access for cloud access security and many more.

All FingerTec resellers who attended the event signed up to be TimeTec Reseller on the day and certificates were presented to the company's' representatives by Mr. Teh Hon Seng. The seminar concluded with a short tour of TimeTec RnD facility in iTech Tower in Cyberjaya.
Cloud solution is the future and we are pleased to invite all our partners to sign up as TimeTec resellers to capture this immense business opportunities from TimeTec cloud solutions.