4/10 Compressed Work Schedule
DESCRIPTION: 
Staff works 10 hours for 4 days a week.
OBJECTIVE:
To offer an alternative to a 8-5 or a 9-6 schedules for companies or government agencies that are offering longer service hours for example 7am to 7pm to clients with opportunity to achieve work life balance for employees.
RULES:
| | |
| --- | --- |
| 1. | Cyclical 7 days (Weeky) – Fixed Plan, No Rotation |
| 2. | 10 hours daily for 4 days |
| 3. | Average 40 hours per week |
| 4. | Staff is full from Tuesdays to Thursdays, 50% on Mondays and Fridays with Weekends as Restdays |
| 5. | Need two teams to cover the week with a 3-day weekend every week |
Auto Create Roster: System will automatically create roster for this Schedule. Select Start Date for this Roster to take effect.

Note: You will need to manually create roster if you continue without Auto Create Roster.
View Schedule: Preview Schedule in table format.
Assign Users: Select users to use this Roster.
New Schedule: Create new Schedule.

Note: Users can be done later at Assign Schedules and Users into Roster if you choose View Schedule or New Schedule.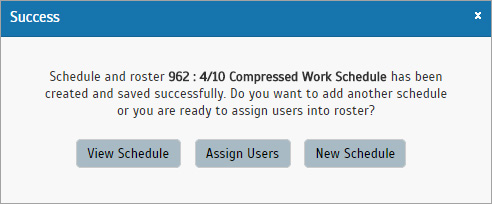 Assign User into Roster: Assign Users and preview Roster.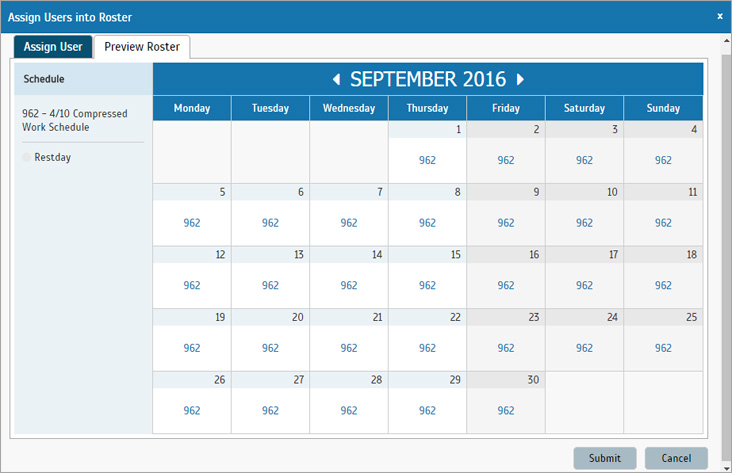 Generate Attendance of the assigned users and they are ready to use it.